A Legacy of Excellence in Nursing & Senior Care
Hillebrand Nursing and Rehabilitation proudly serves as Cincinnati, OH's premier senior care facility offering skilled nursing and specialized rehabilitation therapy services for those in need of post-acute treatment and long-term living care. Our legacy was formed over 50 years ago when one family's dream of a state-of-the-art senior care facility rooted in our local community became a profound and meaningful reality. Our founder, James Glass, took the first step in achieving his vision by opening our doors for business in June of 1967. Since then, we have exemplified his legacy by continuing to cultivate an environment where everyone is treated as family. As a result of Mr. Glass's commitment to community, we have had the privilege of caring for over 40,000 clients with the world-class care and superior hospitality they deserve.
Where Extraordinary Care Happens Everyday
Our new nursing facility at Hillebrand Nursing and Rehabilitation has been an anchor of Bridgetown Road ever since construction was completed in 1997 and is specifically designed for our residents' complete accessibility, privacy, and dignity in mind. In addition to our extraordinary healthcare services, residents are able to enjoy the wide variety of recreational activities, social gatherings, and exceptional home-cooked food our state-of-the-art facility has to offer. From the private roll-in showers and whirlpool spas to our compassionate staff and impressive range of community amenities, we have thoughtfully created the ideal atmosphere for healing the mind, body, and spirit.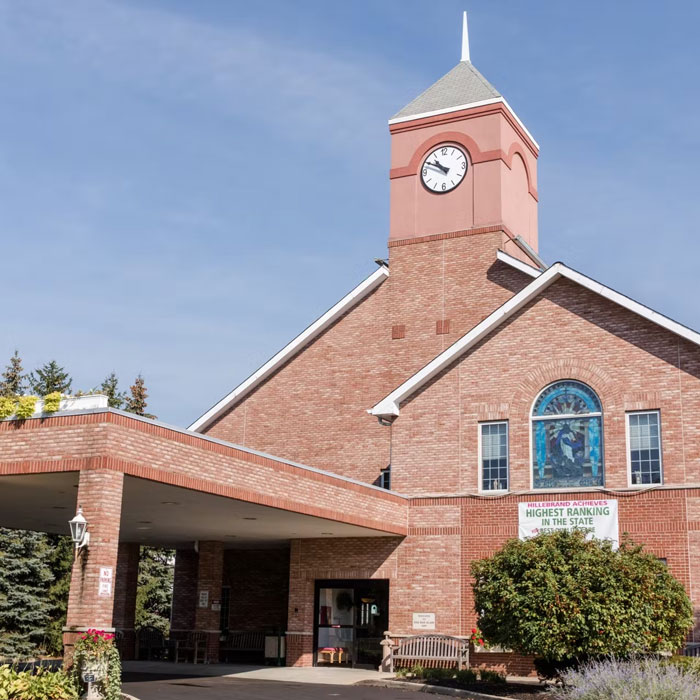 Our Storied History & Commitment to Service
With our skilled short-term rehabilitation therapy, long-term care living, and resident-directed care programs, residents have the opportunity to play a substantial role in personalizing their experience during their stay here at Hillebrand Nursing and Rehabilitation. Named after William B. Hillebrand (1888-1965) and dedicated to the physicians serving the Western Hills area, our senior care facility is an integral part of the Westside Community, and, as a result, residents are able to appreciate the value of community in a significant way with frequent visits from family members, friends, neighbors, and volunteers. We are immensely proud of the outstanding reputation our loyal and dedicated employees have earned over the past four decades and remain committed to maintaining the health, happiness, and safety of our residents.
Schedule Your Consultation
Ready to take the next step? Complete our simple online form, and one of our representatives will be in touch with you soon!