We Emphasize Comfort & Convenience
At Hillebrand, we are a community within a community! To complement our world-class nursing, rehabilitative therapy, and specialized senior care services, we emphasize freedom and individuality, empowering our residents at Hillebrand Nursing and Rehabilitation to dictate their daily living on their own terms. Our state-of-the-art facility in Cincinnati, OH, features an impressive array of modern amenities that energize our residents' passions and inspire their independence. From home-cooked meals, private bathrooms, and free Wi-Fi to onsite salon services, recreational programs, and 24/7 pharmacy access, we are dedicated to facilitating the highest degree of everyday comfort and convenience for our residents. We encourage and welcome families to enjoy our amenities, where children and pets are always welcome!
Designed for Complete Safety & Security
Our facility has been specifically designed with advanced technology to provide the utmost safety, security, and prompt service our residents deserve. All main doors are equipped with Secure-Care radio frequency identification (RFID) technology, which permits access to all and provides real-time location identification for at-risk residents. When a resident has a need, our sophisticated call system notifies our staff via pagers and automatically redirects alerts to the on-duty nurse and RN manager when a call isn't answered promptly. The facility's interior emulates standard hospital conditions, and mechanical lifts have been installed throughout the facility for complete accessibility.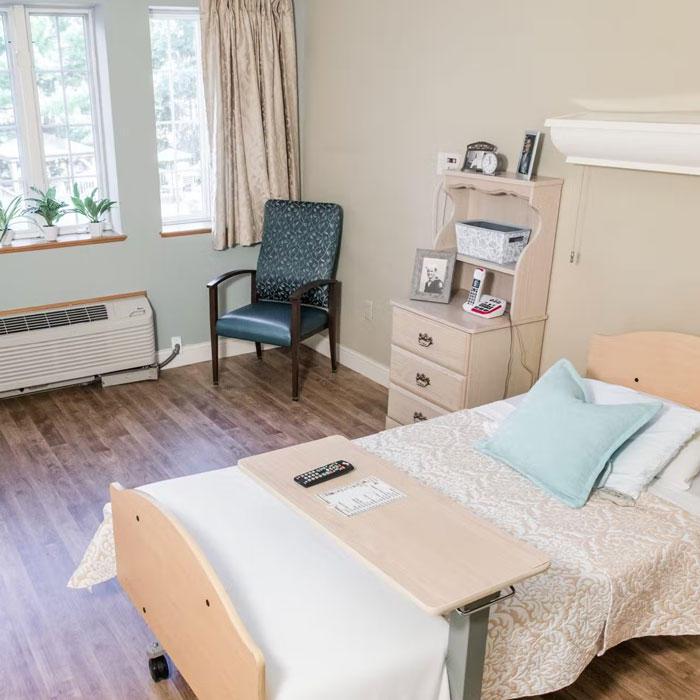 Facilities & Convenient Community Features
State-of-the-Art Building
Chapel feat. Stained Glass Windows & Closed Circuit TV
Lobby & Reception Area
Baby Grand Player Piano
24/7 Ice Cream Parlor
Whirlpool Spas on Every Floor
Pharmacy Open 24/7
550-Gallon Saltwater Aquarium
Aviary
Kristan's Library – includes both adult & children's books
Public Computer in Main Library
Clean, Pleasant, & Relaxed Environment
Private Bathrooms w/ Roll-In Showers in Each Room
Private Conference Rooms Available to Families
Security Access Code-Controlled Stairwells & Elevators
Resident Amenities & Complimentary Offerings
Home-Cooked Meals & Restaurant-Style Dining w/ Select Menus
Hair Salon Located Onsite
TV & Cable Provided for Each Resident
In-House Telephone System
Medicare & Medicaid Certified
Individually-Controlled Heat & A/C in Each Room
Free Wi-Fi
Nurses & Aides Equipped w/ House Call Pagers
Modern Safety Features & Advanced Security Systems
Transportation Services
Recreational Activities Department
Complimentary Apples, Bottled Water, & Coffee Products for Residents & Guests
Fresh Popcorn
Hospice Care Available
Schedule Your Consultation
Ready to take the next step? Complete our simple online form, and one of our representatives will be in touch with you soon!