Employment at Hillebrand Nursing and Rehabilitation
If you would like to work with a reputable, tight-knit team of professional care providers, we are always looking for compassionate individuals to join our mission! Hillebrand Nursing and Rehabilitation in Cincinnati, OH is a state-of-the-art senior care facility offering some of the highest-rated nursing, rehabilitative therapy, and long-term care services in the region. We continue to make meaningful differences in the lives we serve, which is largely attributed to the compassion, dedication, and longevity of our staff members, who all have an average length of service of 10+ years! We welcome all those who are interested in applying for employment with Hillebrand to fill out and submit the application form below. You can also pick up an application from the first-floor receptionist area from 8 am to 8 pm Monday through Friday and from 9 am to 7 pm on the weekends. Connect with us today!
Ready to Make a Difference? Join Our Team!
Are you ready to make a lasting impact in our community? We would love to have you! Our employees provide leading-edge care in a fun, home-like setting and enjoy competitive pay, exceptional benefits, and plenty of opportunities to advance in their careers! As a leader in post-acute treatment and long-term living care, we take pride in creating a vibrant, lively, and loving atmosphere where every resident, patient, guest, and member of staff is nurtured like family. Explore our open positions and apply for a rewarding employment experience at Hillebrand Nursing and Rehabilitation today!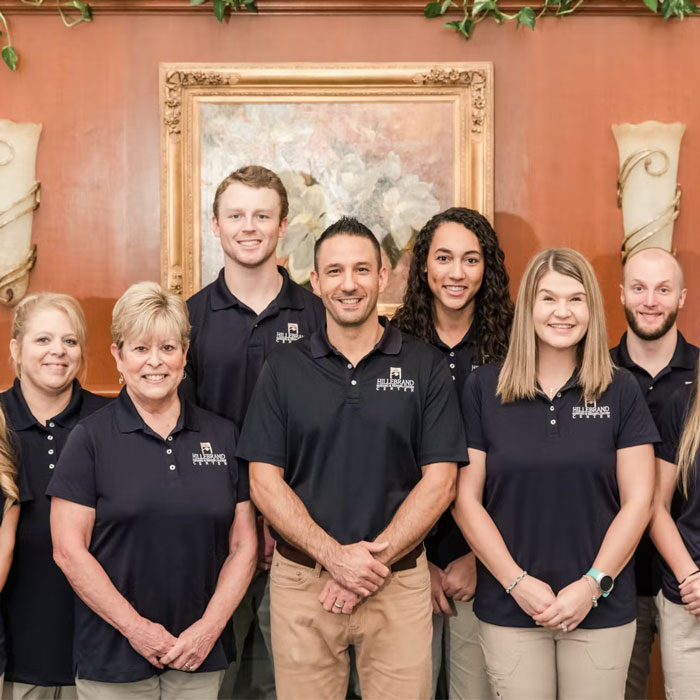 Hillebrand - Application for Employment
AND TO PROVIDE EQUAL OPPORTUNITY FOR THE ADVANCEMENT OF EMPLOYEES, INCLUDING UPGRADING, PROMOTION AND TRAINING; AND TO ADMINISTER THESE ACTIVITIES IN A MANNER WHICH WILL NOT DISCRIMINATE AGAINST ANY PERSON BECAUSE OF RACE, COLOR, RELIGION, AGE, SEX, NATIONAL ORIGIN, PHYSICAL OR MENTAL HANDICAP.
EMPLOYMENT REQUIREMENTS: IF HIRED, YOUR EMPLOYMENT WILL BE "AT-WILL", MEANING THAT YOU MAY LEAVE VOLUNTARILY ANYTIME AND THAT THE EMPLOYER MAY TERMINATE YOUR SERVICES WITH OR WITHOUT ADVANCED NOTICE ANY TIME IN THE FUTURE.
BY YOUR SIGNATURE BELOW YOU RELEASE THE POTENTIAL EMPLOYER TO OBTAIN EITHER DIRECTLY OR THROUGH ITS AGENTS ANY INFORMATION OBTAINABLE FROM LAW ENFORCEMENT, STATE AGENCIES, INSTITUTIONS, PAST EMPLOYERS, INSURANCE COMPANIES OR OTHER INFORMATION SERVICES TO FURNISH INFORMATION RELATIVE TO THE RESPONSES YOU GIVE ON THIS APPLICATION OR IN SUBSEQUENT INTERVIEWS.
ANY OFFERS OF EMPLOYMENT ARE CONTINGENT ON THE SUCCESSFUL COMPLETION OF:

PHYSICAL REVIEW AND EXAMINATION
AN ALCOHOL/DRUG SCREEN
BACKGROUND CHECK
THIS INFORMATION IS TRUTHFUL AND WITHOUT OMISSIONS. I WILL VOLUNTEER INFORMATION ABOUT ANY FELONY CONVICTIONS IN THE APPLICATION/INTERVIEW PROCESS.
Schedule Your Consultation
Ready to take the next step? Complete our simple online form, and one of our representatives will be in touch with you soon!